Values and Ethos
Corporation Road Community School is a truly special place. The notion that we have a school that develops children in to more than a 'set of results' is the bedrock of our vision and ethos. Our school aims to develop children in to 'good citizens', who will go on to do 'great things'. Developing children's character, through positive attitudes, resilience, respect, kindness and care are central to daily life at Corporation Road Community School.
This bedrock encompasses all of school life, but particularly the approach and policies of the school in relation to:
Personal, Social, Health, Citizenship and Economic (PSCHE – including Relationships and Sex Education),
Fundamental British Values,
Behaviour
Spiritual, Moral, Social and Moral (SMSC) aspects of school life.
In order to realise this vision, in every day practice and interaction, at Corporation Road Community School, we live by a set of six virtues – which are articulated, recognised, lived and taught. These virtues, and 'sub traits' are: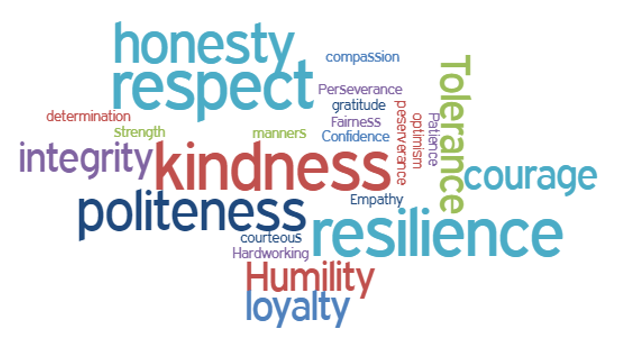 Half Termly Virtue Focus
Each half term will have a virtue focus. Other virtues will be spoken about but each particular focus will have its own assembly launch and will be highlighted throughout that particular half term. The virtue will be revisited several times throughout that half term in our Monday morning assemblies. During these assemblies, we will develop a shared understanding of:
What the virtue is
What does it look like?
What can we do to show this virtue?
How can we recognise this virtue in others?
Virtues are recognised by staff and rewarded with positive praise when they see children 'living' the virtue.
Children are also asked to 'nominate' any children who have displayed that virtue and they fill out a slip which is then displayed in school to promote these virtues across school.
These virtues are heavily linked in our curriculum and encompass all of school life but in particular they are linked with our:
PSHE and RSE curriculum
Behaviour policy
British Values
SMSC aspects of school life
Specific Approaches to teaching and modelling the Virtues
Kindness
This is closely linked to the fundamental British Value of 'Mutual Respect and Tolerance'
Playground buddies who play with children who may struggle with playtimes
Giving to charities throughout the year.
Sending Christmas cards to various stake holders in the local community.
PSHE curriculum, particularly the 'relationships'
Respect
This is closely linked to the fundamental British Values of Mutual Respect and Tolerance and the Rule of Law.
Our RE curriculum promotes this virtue strongly where children learn about other faiths and what makes these religions special.
There is a relentless focus on manners and being polite by all members of staff. Children asked to hold doors, say please and thank you and to speak politely when they are asked questions.
Due to the diverse nature of our school community, different faiths are celebrated and all children are encouraged to ask questions about children's faiths and beliefs.
A range of visitors are invited into school to ensure that children are exposed from an early age to different beliefs and grow up respecting all religions.
We have close links with the PCSO who speaks to the children about their actions outside of school and possible consequences.
Resilience
All of the children at Corporation Road are encouraged to not give up and to keep trying when things get tough in an academic or social setting.
Resilience is rewarded in class. We endeavour to foster an attitude where children enjoy the challenge of work and feel a real sense of pride when they stick at something and achieve.
Teachers set work in class that encourages resilience. They will always ask children to try first before offering any help and this ensures that children try hard in lessons.
The PSHE curriculum fosters this attitude and gives children strategies and ideas on how to improve their resilience.
Honesty
Honesty is about children not being afraid to tell the truth when they have made the wrong decision. Having excellent relationships with the children is key and this is an area where our staff work hard on to ensure they have an environment where children can be honest at all times.
We also foster honesty by asking the children all the time, 'is this your best work?' Children are challenged to always give their best efforts to encourage that 'honesty' with themselves and their teacher.
The sub traits of fairness and integrity are also important to instil in the children. Through the PSHE curriculum we teach the children about 'being good citizens' and how if they see injustice then they should feel morally obliged to do something.
All staff live and breathe this virtue to ensure that children see good role models and staff challenge children when they see incidents of dishonesty.
Independence
Independence is something that is taught from the very first day children come to Corporation Road.
In Nursery, children are expected to become more and more independent, from toileting, changing shoes and coats, getting their own breakfast and in their own learning. This is a long process which is modelled, repeated and encouraged throughout the year so that children leave nursery, ready to move in to Reception as confident, independent learners.
As children move through school all staff encourage children to become independent learners and not to rely on adults for support. Staff at Corporation Road would much rather a child had a go independently than sit and wait for support. This is praised throughout school.
Children are encouraged to be more independent at lunchtime where they serve themselves their drinks and choose their own lunch.
A real strength here is how children play in break and lunchtimes. Children choose their own equipment and play games independently with other children.
When situations arise such as conflicts between peers, staff use a restorative approach to resolve these which encourages children to become more independent when faced with situations and resolve them without the need for adults.
Courage
This is closely linked to the British Value of 'Individual Liberty'.
Having the courage to stand up for oneself and your own beliefs is key to developing children's sense of worth and being proud of the community they belong to.
Courage is linked strongly to our PSHE curriculum in a range of units.
Teaching around bullying and the importance of doing the right thing encourages children to have the courage and conviction to do the right thing even if they may not always want to.
The residential that children go on, encourage them to be brave when faced with challenges that take them out of their comfort zone.
Having children speak in front of others requires courage and this can be taught and improved so all children are expected to speak in front of the class on a regular basis.