Meet the chef from Darlington crowned International Indian Chef of the Year 2017, who you might bump into on our playground!
Indian chef Milon Miah of Spice Island Restaurant in Barnard Castle and whose children attend Corporation Road Community Primary School, received the International Indian Chef of the Year award on the 9th October 2017.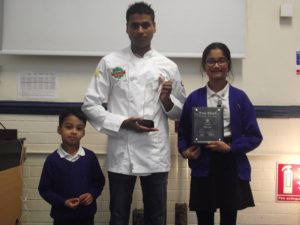 Princess Ann, who was the guest of honour at the ceremony, presented Mr Miah with the award that has been running since 1991 and is very prestigious in the Indian catering industry. All of the individual winners of the different awards were selected from 20,000 applications from chefs and restaurants worldwide.
Milon told Mr Brack that it is a very strange story that led to him winning the title. It all started last year, when he was unknowingly entered into a reality TV show called The Chef by the owner of the restaurant he works in. Mr Miah found out a week before the competition that he would be competing for the first time against thirty other people, on a popular Asian TV channel to be crowned the Best Indian Chef in the North East. The competition, which he won in April 2017, was held in Newcastle and attended by guest of honour Tommy Miah MBE. Tommy Miah is the founder of the International Indian Chef of the Year competition and promised the winner of The Chef a position is his competition, which is how Milon Miah found himself competing for such a big crown.
These events led to chef Miah competing at Billingsgate Seafood College in Canary Wharf, London on 2nd October 2017. This is where he prepared a four-course menu including a dish of venison, asparagus and sun-dried tomatoes with traditional Indian spices. 'I wanted to show that Indian chefs can produce more than your typical curry and can infuse their traditional spices with different cuisines,' he explained. The International Indian Chef of the Year also told Mr Brack that venison is extremely difficult to cook perfectly and that if it is not pink, it is not right. If this wasn't enough pressure, the chef had to prepare the food at the college, put it in a tiffin (to keep warm) and transport it to London Kings Cross to then finish and serve to nine judges on a first class carriage travelling to York. Milon described the experience as incredible and something that he did not expect to happen to him, especially with him competing against executive chefs that have restaurant branches worldwide.
The fact that Milon started working in restaurants at the age of 15 by washing dishes and is now the International Indian Chef of the Year is proof that you can always achieve if you work hard! Mr Miah is hoping to achieve even more and tells us that he has big plans and targets that go beyond just owning his own restaurant.
Mr Brack