DARLINGTON MAYOR ANNOUNCES HEAD BOY AND GIRL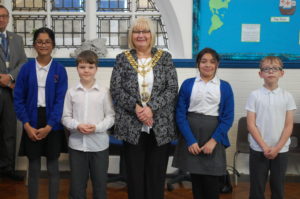 On Thursday 5 October, we were extremely proud to welcome our local Mayor, Jan Taylor, into the school to announce our new Head Boy and Girl during a full school assembly.
The Head Boy and Girl are set to have an exciting, but challenging, year as they take on their new responsibilities, such as being a good role model, supporting the Headteacher to decide on who will get the weekly 'Feeling Proud' and 'Good Citizen' awards, acting as a 'Pupil Voice' in school council meetings, representing the school at key events within Darlington.
Congratulations to:
Head Boy – Oliver
Head Girl – Hana
And the Deputy Heads:
Deputy Head Boy – Sammi
And Deputy Head Girl – Umaya
The Mayor also announced our recently elected school council and presented badges to the deserving pupils, whom were all elected by their peers.
A huge congratulations goes to all of our elected school council members; we are certain they will all make the school very proud.